Scale new heights with remarkable
High-Rise Cleaning/ Rope Access Cleaning Services in Dubai, UAE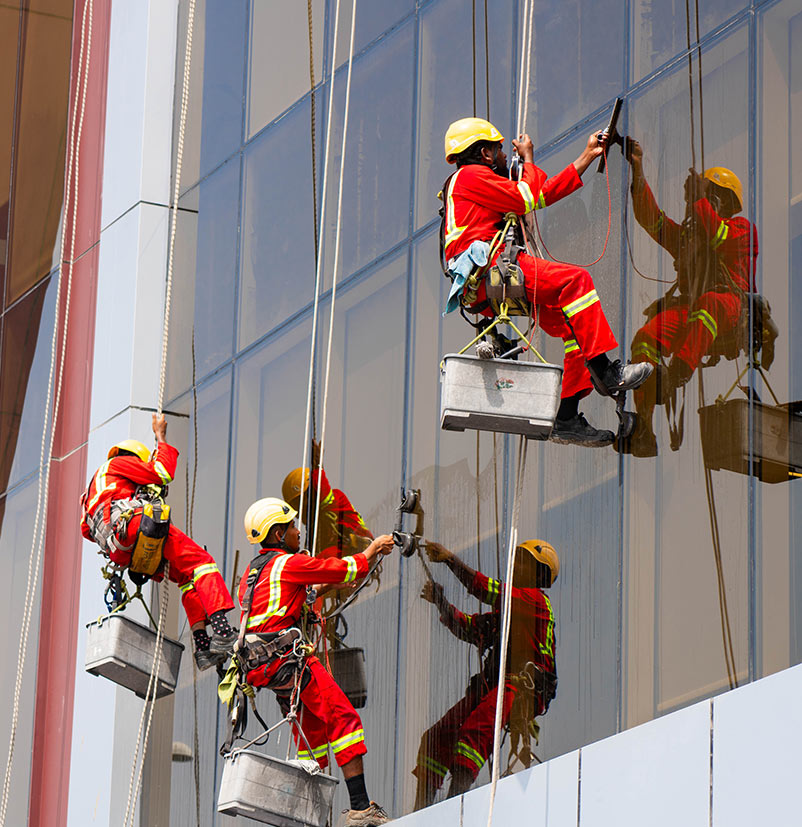 For High-Rise Cleaning/ Rope Access Cleaning Services in Dubai, UAE, one name stands out as the top choice: Top One High Rise Cleaning Services.
Our years of experience and expertise in the field; have established us as the go-to professionals for building maintenance needs on tall structures. Our highly skilled team uses advanced techniques and equipment to ensure efficient and thorough cleaning without compromising safety.
We specialise in window cleaning, glass restoration, pressure washing, and painting for commercial and residential buildings. What sets Top One High Rise Cleaning service apart from its competitors is our commitment to quality, attention to detail, and strict adherence to safety protocols. Moreover, our excellent track record of delivering exceptional results has earned us a strong reputation among clients throughout Dubai.
For all your high-rise cleaning needs in Dubai, choose our High-Rise Cleaning service that guarantees satisfaction and peace of mind knowing that you are getting the best service in the industry.
Awards and Certifications

Tried multiple facility companies here in Dubai but TOP1 stands out in High rise cleaning. Really they have done an exceptional job.
Ed Dulcie Emese

Securities are valuable additions to residential communities, TOP1 has proved by maintaining strict security protocols and kept residents safe. I appreciate their dedications.
Anubis Ahmed Jabri

Top notch services from TOP1. I would definitely hire them again in future for upcoming events.
Dario Carys Aaliya

Staffs are friendly and are accommodating our specific needs by providing high standards of cleanliness.
Nahla

Extremely happy for choosing the right facility services, they have proved to be reliable in managing access control and monitoring our premises.
Habil Butros

I won't hesitate to hire them again, very excellent cleaning.
Qadira Asahi

Staffs are very supportive and ensures facility issues are resolved promptly. I am much impressed. Thank you!!
Dhruv Darsh Aarav

I highly recommend their cleaning services to any commercial looking for cleanliness and hygiene.
Hui Chao Bao

Recently moved here to my apartment, the deep cleaning services provided thorough and they left my apartment unsoiled. I am grateful to have their services.
Viktor Leonid Mikhail
Got questions about our service? Get in touch with our team today!
Share your details by filling the form and will be in touch with you shortly.