Exceptional Office Boys and Customer Service in Dubai, UAE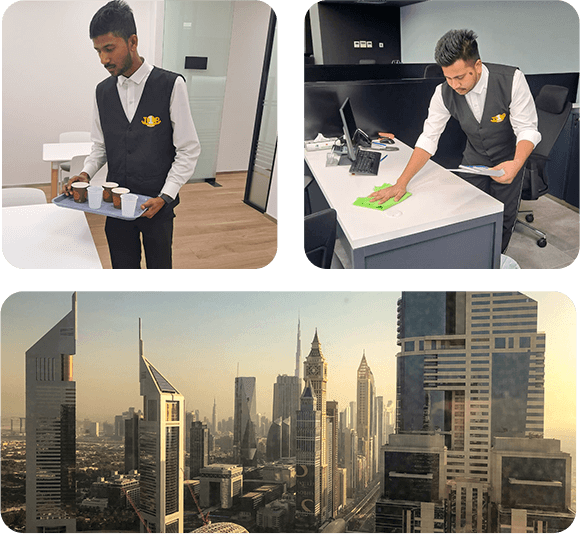 Our company is known for providing office boys and messengers to several clients across Dubai, UAE. With our years of experience in the industry, we have earned a reputation for our professionalism and exceptional service.
Our team of well-trained and dedicated cleaners are equipped with state-of-the-art equipment and follows stringent sanitation protocols to ensure that every corner of your office is spotless. From routine cleaning tasks such as dusting, vacuuming, and mopping to more specialized services like carpet cleaning and window washing, we have the expertise to handle it all efficiently and effectively.
Moreover, our reliable office boys and messengers are invaluable in your workplace, providing efficient administrative support. From delivering important documents or managing various errands, our staff is committed to ensuring smooth operations within your organization.
For unrivalled cleanliness standards and dependable support staff in Dubai, Top One Company is the go-to for discerning businesses seeking top-quality professional services.
Whether you want to motivate, entertain or innovate, our event services offer outstanding outcomes to take your organization forward. We design bespoke solutions that are creative, feasible, efficient, meticulously planned and successfully implemented with a professional approach.   
We are event experts; our specialty is offering a truly personal service with flawless planning. We are able to offer solutions for every aspect of your event, from entertainment and promotional staff right through to event branding and RSVP management.
In today's business world, customers expect and deserve a certain level of security and professional courtesy. Top One provides experienced security guards who guarantee maximum protection and customer satisfaction. Our guards possess a comprehensive knowledge of the inner workings of customer service departments and provide a safe, welcoming space for all. Our guards have become valuable assets in the workplace with excellent communication, problem-solving skills, the ability to diffuse tense situations, a basic understanding of CCTV and the ability to carry out regular security patrols. Several businesses within the UAE feel at ease knowing that their customer service departments are protected by Top One security guards and their customers are provided with a safe and professional atmosphere.
Office Boys are trained to clean office rooms, prepare beverages, attend to guests and to act as the link between the offices of an organization.
Awards and Certifications

Tried multiple facility companies here in Dubai but TOP1 stands out in High rise cleaning. Really they have done an exceptional job.
Ed Dulcie Emese

Securities are valuable additions to residential communities, TOP1 has proved by maintaining strict security protocols and kept residents safe. I appreciate their dedications.
Anubis Ahmed Jabri

Top notch services from TOP1. I would definitely hire them again in future for upcoming events.
Dario Carys Aaliya

Staffs are friendly and are accommodating our specific needs by providing high standards of cleanliness.
Nahla

Extremely happy for choosing the right facility services, they have proved to be reliable in managing access control and monitoring our premises.
Habil Butros

I won't hesitate to hire them again, very excellent cleaning.
Qadira Asahi

Staffs are very supportive and ensures facility issues are resolved promptly. I am much impressed. Thank you!!
Dhruv Darsh Aarav

I highly recommend their cleaning services to any commercial looking for cleanliness and hygiene.
Hui Chao Bao

Recently moved here to my apartment, the deep cleaning services provided thorough and they left my apartment unsoiled. I am grateful to have their services.
Viktor Leonid Mikhail
Got questions about our service? Get in touch with our team today!
Share your details by filling the form and will be in touch with you shortly.